CMM-0.6 Oil degassing and filtration cart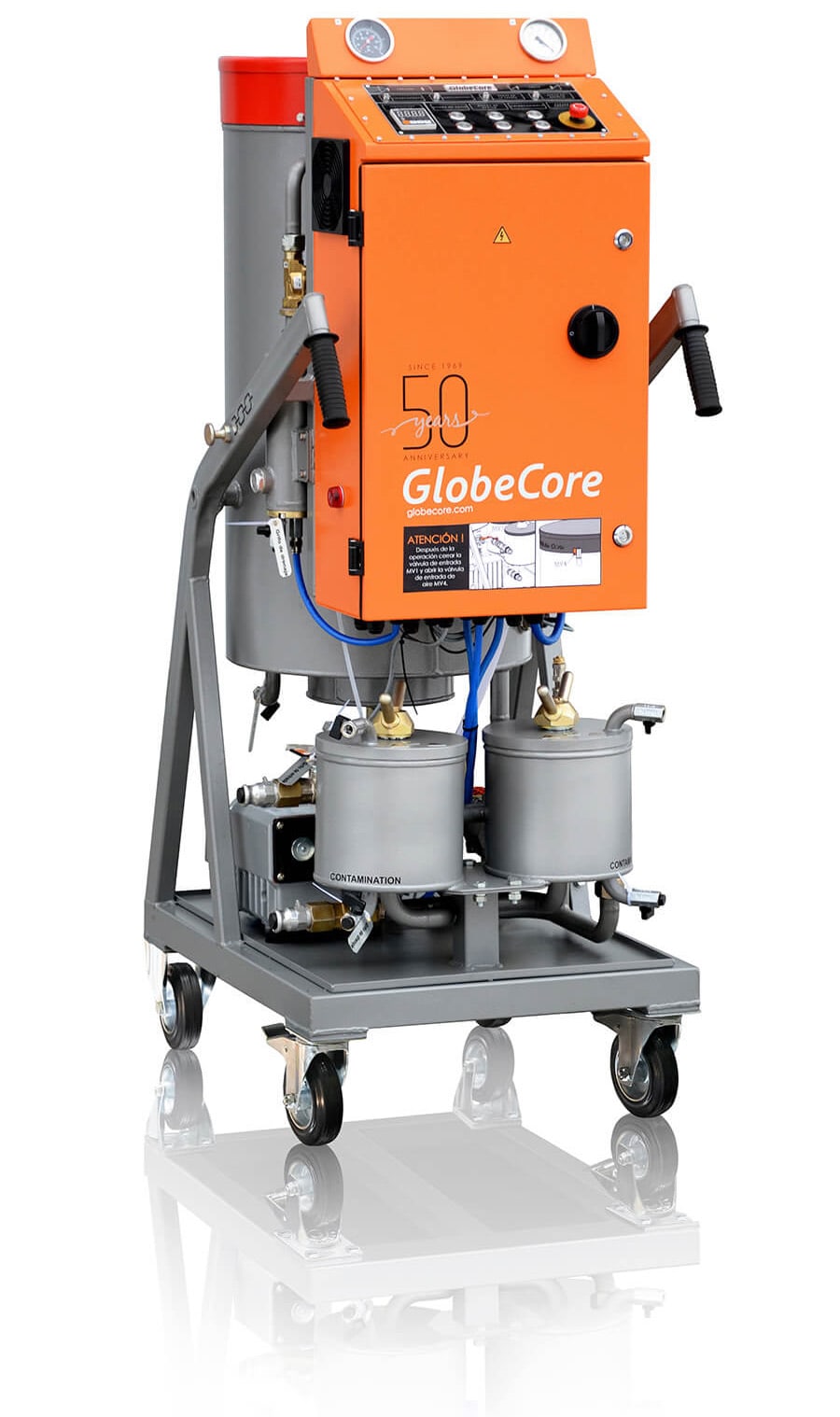 During storage and operation, transformer oil can come into contact with air and gases, which reduces its electric strength by 20-30% (if there is no bubbles formed). Air dissolved in oil and in solid insulation reduces the electrical strength of the entire insulation structure of the transformer, which leads to the development of electrical discharges. CMM-0.6 oil purification station prevents the described above phenomena.
Many manufacturers and operators put forward strict requirements to the evacuation of power transformers and the presence of gases in transformer oils, which can extend the life and reliability of the insulation system. At the same time, the performance of transformer oil is also greatly affected by contamination with mechanical impurities and the presence of moisture. Degassing and cleaning of the insulating liquid before it is poured into the equipment allows us to guarantee good heat dissipation from the heating parts of the transformer and insulation of current-carrying elements.
Design
Globecore СММ-0.6 unit is presented as mobile cart equipment, which has next elements:
an outlet pump;
an electrical heater;
fine and coarse filtrating elements;
a cylindrical chamber with a filler;
a vacuum pump;
a control cabinet with a parameters display and process controlling buttons.
Operating process
All the process can be divided into 3 main steps:
Pumping oil inside – the vacuum pump creates a vacuum inside of the chamber, then the difference in pressure pulls dirty oil right through the first filter to remove solid particles and pumps it up into the heater.
Heating – Inside of the electrical heater oil temperature is raised to the required for operation. Overheating is not possible because of the sensor that switch-off the heater as soon as the temperature is reached and switch-on when it drops below the installed minimum.
Degassing and filtration – After heating oil goes into the main vessel space, loaded with a special filler that is able to extract water. The oil stream flows down to the bottom through all filler elements while vacuum also extracts moisture and gases from it. This allow us to degass and remove water at the same time, then the outlet pump draws oil through the pipe at the bottom and into the final filter, before releasing it through the outlet valve. Operator presence is not required during the process, he only needs to select a mode of operation and press the start button.
| | | |
| --- | --- | --- |
| No. | Parameter Description | Value |
| 1 | Efficiency, m3/hour | 0.6 |
| 2 | Power supply (AC 50Hz, V) | 380* |
| 3 | Rated input power, kW | 14 |
| 4 | Pre-filter, micron | 200 |
| 5 | Degree of filtration, microns | 5 |
| 6 | Cleanliness level after processing (as per ISO 4406) | -/14/12 |
| 7 | Oil breakdown voltage after one cycle of processing not less, kV | 60** |
| 8 | Outside dimensions (excl.hoses) not more, mm | |
| | — length | 750 |
| | — width | 520 |
| | — height | 1350 |
| 9 | Weight (without oil) not more, kg | 250 |
* – make all other voltage types if required
** – if the oil hasn't been in use.
If you want to order a unit with different parameters to meet your peculiar needs, you should fill our questionnaire, to point out all necessary adjustments.
The unit is mobile and has a compact size;
ease in maintenance and operation;
protection against oil spillage and foaming;
silent operation;
provide top level of oil degassing and filtration;
can be connected to the power source via an ordinary outlet;
improves the reliability of oil-filled equipment.