CMM-10/15 Mobile oil plant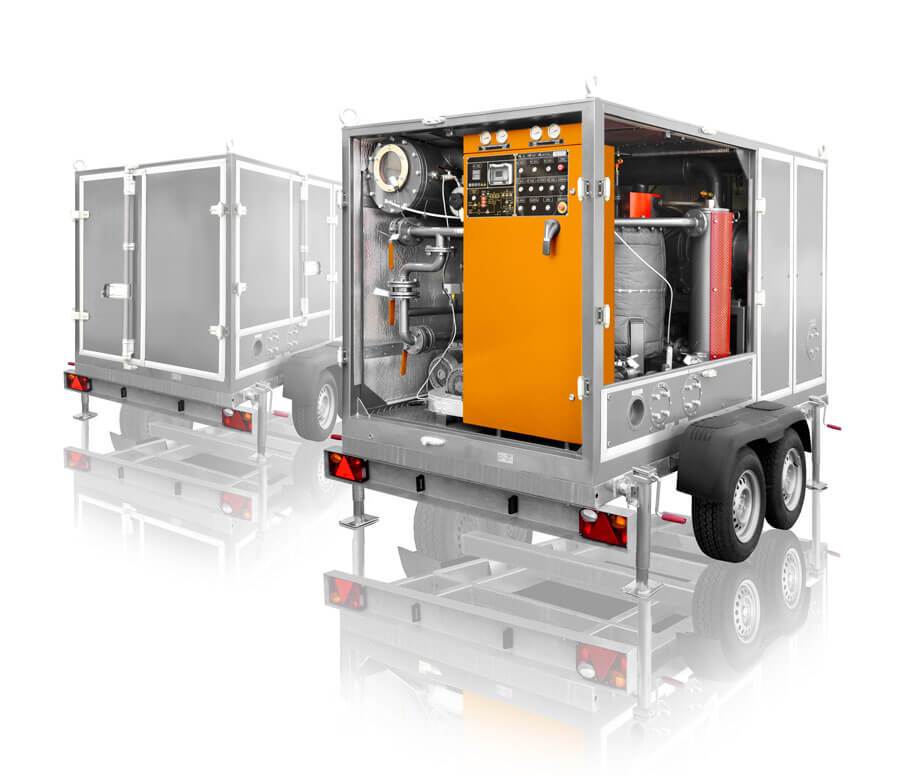 CMM 10/15 is a more productive version of our CMM 4/7 unit for transformer oil degassing, heating and filtration. It can process up to 10 tons of transformer oil in degassing mode and up to 15 in heating and filtration. The unit efficiently removes water, solid particles, and gases, which lead to an increase in the breakdown voltage (dielectric strength) of the transformer oil. CMM 10/15 designed as a self-contained unit with all components and operating assemblies protected by metal panels and easy opening, gas-spring loaded doors on the sides and back of the unit. The "Containerized" version usually placed on a tandem axle trailer that is street legal and ready to be towed to any remote location.
The unit consists of a vacuum1 chamber, input and output oil pumps, coarse and fine filters2, oil trap, oil heater3, pipelines with valves, vacuum pump4 section and a control cabinet.
| | |
| --- | --- |
| Parameter | Value |
| Capacity, m3/hour / gals. per hour: | |
| degassing, drying and filtration mode | 8/2117 |
| heating and filtration mode | 15/3970 |
| Processed oil parameters*: | |
| volumetric gas content %, max | 0.1 |
| mass moisture content, g/ton, max | 3.0 |
| filtration fineness, micron | 1 |
| Oil output temperature in heating mode, ºС/ ºF | 90/194 |
| Outlet pressure, MPa | 0.4 |
| Oil heater power, kW | 180 |
| Max power consumption, kW | 210 |
| Residual pressure in vacuum chamber during degassing, mbar, max | 267 |
| Residual pressure in vacuum chamber during air tightness test, mbar, max | 26.7 |
| Air leak into the chamber in 1 hour, mbar max: | 267 |
| Electric power parameters | |
| | 415 |
| | 50/60 |
| Dimensions, mm/ft, max | |
| | 4750/15'7'' |
| | 2100/6'11'' |
| | 2320/7'7'' |
| Weight, kg/lbs, max | 3500/7735 |
with TSS (transformer safety system) can purify the oil while the transformer continues its operation
transformer oil dielectric strength increases to at least 70 kV;
perform transformer drying with simultaneous oil processing;
can be used for initial filling of electrical equipment with insulation oil;
can be used for evacuation of transformers and other electrical equipment;
simple operation and servicing (only one person is required and Globecore engineers can teach him/her or them how to work with the unit)